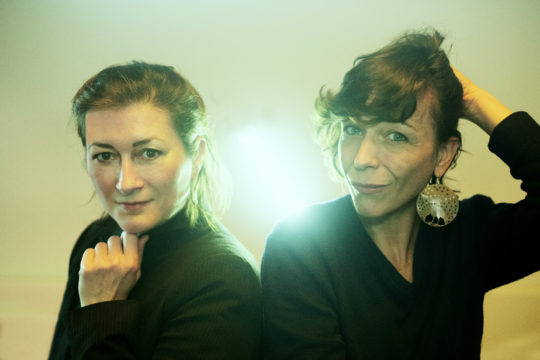 Voetvolk / Lisbeth Gruwez & Claire Chevallier
       Piano Works Debussy (2020)
Music is the space between the notes
 Program:
Des pas sur la neige ( Préludes I, n°6)
Pagodes ( Estampes, n°1)
Soirée dans Grenade ( Estampes, n°2)
Jardins sous la pluie ( Estampes, n°3)
Les sons et les parfums tournent dans l'air du soir ( Préludes I, n°4)
Elégie
Brouillards ( Préludes II, n°1)
Berceuse héroïque
Feux d'artifice ( Préludes II, n°12)
Hommage à Rameau ( Images I, n°2)
Des pas sur la neige ( Préludes I, n°6)
About Piano Works Debussy
Piano Works Debussy is a duet between dancer Lisbeth Gruwez and pianist Claire Chevallier. Together they're in search of the space between the notes in the compositions of Claude Debussy, who fiddled around with the hegemony of rules.
Their movements are suggestions rather than expressions, in line with Debussy's search for 'la musique immatérielle'. Rather than evoking a steadfast reality, Gruwez and Chevallier install an imagination behind the gauze of the material.
For the first time in her career Gruwez is getting involved with classical music. After her formation in classical ballet she found freedom in contemporary dance, gradually developing a language of movement that's referential by now. In this respect, Piano Works Debussy is a unique dialogue between a classical and contemporary framework that somehow uncovers her choreographical trajectory.
Lisbeth Gruwez: "Piano Works Debussy is an aquarelle. Think about the airiness of colours that flow in one another, dry for a while, and become moistened again to establish new connections. Debussy's music irrigates the dance and continually shakes up the material."
Piano Works Debussy is premiering in march 2020.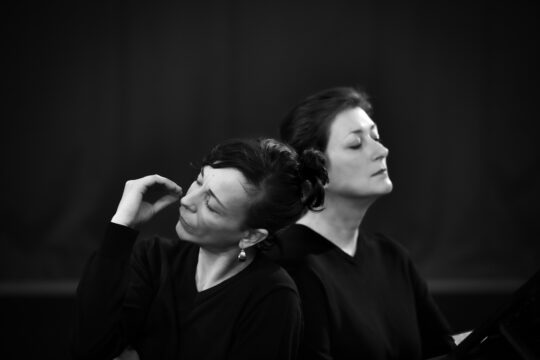 @ Danny Willems
October 2020:
La libre, B:
" Le nouveau solo de danse de Lisbeth Gruwez avec Claire Chevallier jouant Debussy est d'une subtile Beauté"
De Standaard, B:
" Om te huilen zo mooi"
De Morgen, B:
" Tot elke prijs de magie bewaren"
Le télégramme, FR:
" Qui donne l'impulsion? Quelles sont les limites? Tout est permis dans ce jeu qui s'installe entre la danseuse/chorégraphe Lisbeth Gruwez et la pianiste Claire Chevallier, l'une excellant dans la grâce de ses mouvements, l'autre dans la virtuosité de ses lignes mélodiques".
Credits Piano Works Debussy
CHOREOGRAPHY Lisbeth Gruwez MUSIC Claude Debussy PERFORMANCE Lisbeth Gruwez & Claire Chevallier ARTISTIC ASSISTANCE Maarten Van Cauwenberghe DRAMATURGY Bart Meuleman LIGHT DESIGN Stef Alleweireldt SCENOGRAPHY Marie Szersnovicz TECHNICAL DIRECTOR Gilles Roosen PRODUCTION MANAGER Anita Boels COMMUNICATIONS Sam Ecker PRODUCTION Voetvolk vzw COPRODUCTION KVS – Royal Flemish Theatre, Le Fonds de dotation du Quartz, Theater Freiburg, Klarafestival, ADC Genève, Vooruit Ghent, Lielais Dzintars & Festival d'Avignon RESIDENCIES KVS – Royal Flemish Theatre, Arts Centre NONA, Ultima Vez, Les Brigittines & Le Quartz WITH THE SUPPORT OF NONA, the Flemish Community, the Flemish Community Commission (VGC) & the Belgian Tax Shelter
About Voetvolk
Voetvolk (Dutch for 'infantry') is a Belgian contemporary dance and performance company, founded in 2007 by dancer/choreographer Lisbeth Gruwez and musician/composer Maarten Van Cauwenberghe, who got to know each other in the laboratory of Jan Fabre. Together they've created 10 productions already, e.g. It's going to get worse and worse and worse, my friend, AH/HA, We're pretty fuckin' far from okay, Lisbeth Gruwez dances Bob Dylan and The Sea Within.
Their work is an ongoing conversation between corporal and auditive movement: Gruwez and Van Cauwenberghe direct each other in order to achieve an organic symbiosis within a fixed frame. This brings in the element of performance that identifies every production: the connection between the aural and the visual/physical is always (a)live. Their performances have been shown at the festivals of Avignon, Julidans, Tanz im August, Dance Umbrella and the Venice Biennale.
Voetvolk is allied to Troubleyn | Jan Fabre and the Royal Museum of Fine Arts Antwerp as 'company-in-residence' and 'artiste associé' of Le Quartz – Scène Nationale de Brest.
About Lisbeth Gruwez
Lisbeth Gruwez (°1977) studied at the Royal Ballet School of Antwerp and at P.A.R.T.S., kicking off her professional career at Ultima Vez in The Day of Heaven and Hell, a project on Pasolini. From 1999 onwards she worked with Jan Fabre on performances such as As long as the world needs a warrior's soul, Je suis sang and the famous solo Quando l'uomo principale è una donna. Being one of Fabre's guerriers de la beauté ('warriors of beauty') she was to be seen in Pierre Coulibeuf's film of the same name. Apart from that, she's worked with Jan Lauwers, Grace Ellen Barkey, Riina Saastamoinen, Sidi Larbi Cherkaoui and Peter Verhelst, amongst others. She also played the leading role in Lost Persons Area, Caroline Strubbe's first feature film.
Apart from her work for Voetvolk, Lisbeth regularly conducts workshops and other types of artistic advisory and coaching. She is one of the "KVS faces", the open ensemble of artists and thinkers associated with the Royal Flemish Theatre of Brussels.
About Claire Chevallier
Claire Chevallier (°1969) is a celebrated pianist of solo recitals, chamber concerts and concerts with orchestra. She is world-renowned for her performances and recordings. Claire is specialized in historically informed performance: she re-actualizes music on old instruments. She also has her own collection of historical pianos, consisting of six grand pianos from the period 1840-1920.
Claire teaches at the 'Conservatoire Royal de Bruxelles' and served on the panel of judges for the Liszt Concours in Utrecht and the International Chopin Competition of Warschau, amongst others. She's an expert of the works of French composers as Ravel, Debussy, Satie, Poulenc… Her recording of Ravel's Concerto pour la main gauche (together with Anima Eterna) is still a landmark in the world of classical music.
Chevallier has also extensively worked with performing and other artists, such as Rosas, David Claerbout, Josse De Pauw and Jan Lauwers (Needcompany).